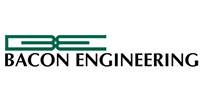 Description
Founded in 1961 by Bob Bacon, Bacon Engineering has been a leader in the industrial boiler sales and service business.Our comprehensive range of services for industrial and institutional steam plants also includes turnkey contracts, complete boiler plant construction, retrofitting of existing systems, fuel conversions, commissioning, training, field supervision, combustion and emissions testing, engineering reports, accreditation and compliance. Bacon Engineering has been delivering innovative and cost-effective steam and combustion solutions for over 50 years.
We have expertise in the design, upgrading and installation of industrial steam boilers and burners, control and burner management systems, as well as heat recovery equipment, fuel conversions, commissioning, training and much more.
We have successfully completed more than 1,000 combustion projects over the last 50+ years, employing creative and cost-effective strategies to ensure projects are completed on schedule and within budget.
We hold P. Eng status and a Gas Fitter #1 Licence for Natural Gas in the provinces of Ontario, New Brunswick and Nova Scotia. We have served the industry by working on code committees for the safe handling of natural gas and oil, and currently sit on the CSA committee revising the next version of the Natural Gas Code (CSA B149.3).