Waterloo Manufacturing Company Ltd.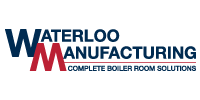 Company Name:
Waterloo Manufacturing Company Ltd.
Description:
Originally founded in 1850 we have evolved into a full service boiler sales and service organization. We are able to offer any size boiler in either steam or hot water ranging from small commercial to large industrial for purchase, lease or rental. The Waterloo Mfg. sales team can provide a complete boiler room solution integrating boiler, burner, controls, stacking and lifetime product service. Our experienced TSSA certified service technicians are available 24 hours a day, 7 days a week and have access to our extensive parts inventory. The Waterloo Mfg. aftermarket team can help with any energy efficiency upgrades, burner or control retrofits, as well as any rental boiler needs you may have.