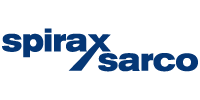 Description
Spirax Sarco is the world's leading provider of steam system solutions and the leader (for over 100 years), providing expertise, solutions and sustainability to steam users around the world.
A solution can be as simple as a product, a series of products or services, or a complex package. Our teams are acknowledged experts in steam system applications. We have a great range of capabilities and expertise. With continual product development, we provide the finest solutions in the marketplace.
Our promise to our customers is to understand their needs and to provide the most appropriate and effective solutions, to help them better economically and effectively manage their steam systems.
Category
Actuators
,
Blowdown Separators
,
Boiler Feed Systems
,
Boilers, Controls & Information Management
,
Boilers, Electric
,
Condensate Return Systems
,
Deaerators
,
Desuperheaters
,
Gage Glass: Bi-Colour, Flat Glass, Prismatic
,
Gaskets
,
Gauges: Level, Pressure
,
Heat Exchanger: Tools, Tube Plugs
,
Heat Exchangers
,
Heat Recovery Systems
,
Instrumentation/Controls, Actuators
,
Instrumentation/Controls, Low Water Cut-Off
,
Meters, Flow
,
Monitoring Systems, Online
,
Piping
,
Pressure Reducing Regulators
,
Pressure Regulators
,
Pressure Vessels
,
Pumps
,
Safety Shutoff Valves
,
Safety Valves/Pressure Relief Valves
,
Separators
,
Smart Boiler Control
,
Steam Accumulators
,
Steam Generators
,
Storage Tanks
,
Tanks
,
Training
,
Traps
,
Valve, Level Switches
,
Valves
,
Waste to Energy Systems