Join us June 12-13 in Ajax, Ontario
Join CBS for its milestone year as we celebrate the 100th anniversary of the Canadian Boiler Society. The Centennial Celebration will include our annual Tech Fair and Golf Tournament. An anticipated attendance of approximately 150 delegates will provide an excellent networking and educational forum for everyone involved. This year we will kick-off with a Centennial Members Reception on June 12, and dive into Education and Golf on June 13 during the annual Tech Fair & Golf Tournament.
Our delegates include: Operating engineers, energy services professionals, boiler industry, professionals, building owners and managers, energy consultants, greenhouse operators, mechanical and heating system engineers, suppliers to the boiler industry, industry faculty, and industry stake holders.
June 12 – Centennial Celebration Members Reception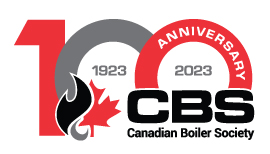 Join us at the Skills Training Centre at Durham College for a reception with drinks & snacks as we come together to celebrate the last 100 years of CBS. We anticipate retired industry professionals, past-chairs and leaders within CBS, members, customers, and more! This event is included in the registration fees. 
Time: Begins at 5:00 p.m.
Location: Durham College Campus (Whitby), 1610 Champlain Ave, Whitby ON L1N 6A7
Directions for entrance will be made available to delegates. 
---
June 13 – Tech Fair & Golf Tournament
Location: Deer Creek Golf Club, 2700 Audley Road N., Ajax, Ontario L1Z 1T7
Schedule
Tuesday, June 13
6:00 AM – 7:30 AM
Exhibitor Setup
7:30 AM – 8:30 AM
Breakfast with the Exhibitors
8:30 AM – 9:30 AM
Keynote Address: The Future of Steam
Presented by Federico Miguel Halle, Sustainability Business Development Manager, Spirax Sarco UK
Our keynote address will present on Global Megatrends related to steam usage and paths to transition to low carbon generation. The thermal power of steam is essential to processes across a wide range of industries and applications. Federico will explain how new technologies and effective system optimization are advancing the future of steam, and why steam is the thermal energy technology required for a sustainable industrial future.
9:30 AM – 10:30 AM
Break with Exhibitors
10:30 AM -12:00 PM
Panel Discussion on The Future of Steam
Panelists
This panel will include industry experts who will follow the momentum of the keynote address, and further discuss on what to expect in the future.

Federico Miguel Halle, Sustainability Business Development Manager, Spirax Sarco UK Federico Halle is currently serving as the Business Development Manager for decarbonization solutions at Spirax Sarco, a world-leading company specializing in industrial and commercial steam systems. Holding a degree in Industrial Engineering from UADE, Federico has accumulated over nine years of experience in the thermal energy industry. His success is founded on his dedication towards comprehending industry trends and global sustainability requirements, and providing innovative solutions to empower organizations in their journeys towards Net Zero.

---

Ian Jarvis, Executive Director, Climate Challenge Network

Enerlife's founder and president since 2001, Ian Jarvis is an authority on energy efficiency, green buildings and practical pathways to net-zero. He has been at the leading edge of practice and research of high performance buildings for three decades. Ian provides strategic and technical advice to Enerlife's projects and clients, forms and leads Integrated Building Performance Teams, and brings unique knowledge and experience of achieving and sustaining exceptional performance in individual buildings and portfolios. He is an expert witness in regulatory hearings, advises governments and utility companies on policy and program design and evaluation, and is an accomplished speaker and workshop leader.

---

Martin Lensink, Vice President, C02 Reduction, CEM

Martin Lensink is a senior mechanical engineer who specializes in thermal power engineering, energy engineering, and energy management. Martin has over 40 years of experience in helping energy intensive customers manage energy through technology. He specializes in the development of high efficiency cogeneration systems based on combustion gas turbines, steam turbines, and internal combustion engines. Martin founded CEM Engineering in 2001 and is now CEM's Vice President of CO2 Reduction. Prior to CEM Engineering, Martin was the Manager of Gas Turbine projects for Toromont Energy. He also served as both Regional Sales Manager and as Manager of Canadian Operations for Rolls-Royce/U.S. Turbine Corporation; he was Senior Mechanical Engineer with SNC/W.P. London & Associates; and he held a number of positions with Union Gas in Chatham, Ontario.

---

Scott Lynch, President & CEO, American Boiler Manufacturers Association (ABMA)

Scott Lynch was appointed President & CEO of the American Boiler Manufacturers Association (ABMA) in June 2014. Scott oversees the day-to-day operations and partners with the Board of Directors to continually enhance the association and advance the industry.
Under his leadership, ABMA has set membership and meeting attendance records and transformed into an association focused on the entire boiler supply chain.

During his tenure, ABMA has rebranded and redefined the association's mission to lead and unite the boiler industry through advocacy, education, awareness, and our commitment to provide solutions to our members. This shift in strategic direction led to the launch of Boiler Weekly and the creation of an online fully searchable Buyers Guide of Member Products & Services. In addition, Lynch led the creation of Inside the Boiler Room, a podcast presented by ABMA which he hosts and has interviews boiler industry thought leaders.

---

Aqeel Zaidi, Technical Manager, Low Carbon Technologies, Enbridge Gas Inc.

Aqeel has over 40 years of professional engineering experience, primarily in the areas of energy efficiency, renewable energy and low carbon technologies including: boilers and steam systems, combustion, industrial process heating, energy analysis of industrial and institutional facilities, combined heat and power (CHP), carbon capture, Hydrogen, natural gas heat pumps (GHP), demand side management (DSM) and marginal GHG emissions analysis of electricity generation.
Aqeel is a registered Professional Engineer in Ontario and a member of the Association of Energy Engineers. He is a current and past chair/co-chair of several energy committees and technology consortia including the Industrial and Major Accounts Consortium (IMAC) of the Energy Solution Center (ESC). He was a member of the US DOE Steam Steering Committee where he led the development of condensing economizers tip sheets.

12:00 PM – 1:00 PM
Lunch with Exhibitors
1:30
Golf Tee Off
6:00 PM
Reception followed by Dinner