COCHRANE by newterra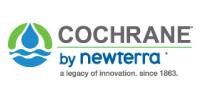 Company Name:
COCHRANE by newterra
Description:
Newterra is a leading provider of modular water, wastewater and groundwater treatment solutions to the resource, power generation, industrial, private development and municipal markets. With its suite of patented and proprietary technologies, Newterra's capabilities – from design and engineering to manufacturing in its own facilities – allow the company to maintain control over the quality and on-time delivery of its systems. With operations in Canada, United States, Germany, and Chile, Newterra can address its clients needs on a global basis. Today, through our ongoing investment in R&D, implementation of Lean manufacturing, and ownership of all facets of our production, Newterra has emerged as a leading player in the quest to preserve the quality of the world's water. It's a responsibility we take seriously, and one that we demonstrate every day through our robust solutions and total commitment to client satisfaction. In addition to being named as a Cleantech Top 100 Global Company in both 2013 and 2015, Newterra has also achieved Platinum status as a distinguished recipient of Deloitte's 50 Best Managed Companies Award for the past eight consecutive years. Newterra is proud to be recognized by Frost & Sullivan for Leadership in Technology for Water and Wastewater Treatment Systems.